I have short hair two years ago and do not think about growing anytime soon. After you cut really the first time and see the practical it is to have a short hair, longing to have a big hair goes away! so it was with me and now I am a staunch defender of short hair hahahahaahah.
Many people ask me if I do not I miss having long hair and the answer is: not even remember what it was like hahahaha. For those who ponders the idea of ​​cutting, brought 13 celebrity hair for you inspiration. It has since radical hansel style (which I love, I too lindooooo) to the longbobs, at the shoulders, for those who still're afraid to let go.
I could mention here 3432590 reasons to have short hair, but some cliches as it is easy to care and in 15 minutes you're ready are already the most relevant. Out that they highly value the women's faces, and has both gorgeous cut.
Out that if you have more than 10 cm to cut your hair can donate to NGOs that transform them into wigs for children with cancer ♥ Yeah there's a great reason, right? I'll make a post about it, but to heat turbines, I convince you to cut with these beautiful options!
1 – Andreia Horta
Andreia Horta changed the hair to live the Maria Eduarda of "Imperio" and read in press ~ ~ that her hair is already one of the applications in Brazil around the halls. Not to the least scruffy chanel Andreia Horta is easy to care for, and always okay with that guy "I woke up and left" but chic.
2 – Claudia Raia
Claudia Raia radicalized once. Changed the cut and color once and it was beautiful! I love this cut Peaked and sophisticated, which gains volume when you brush. It gives an air of power and wealth in the person even if it has R$0.15 in the bank account (which is not the case of Claudia, of course)
3 – Emma Roberts
Emma Roberts is a cute and was softer still short hair. She opted for a chanel tips (we do not have a better name for this cut does not?), which is modern and super beautiful and even is my haircut who think ugly can close this page now (lie).
4 – Scarlett Johansson
Scarlett is a diva and goes with everything, and showed to everyone that a diva can indeed have a boyish hair and still diva. This court, despite being masculinized and vilanizado by hunters divas, gives an air of independence and modernity to any woman. If I were not so Eared I cut (my qq God I'm talking about).
5 – Juliana Paes
For fearful migas not have the courage to hit it big hair scissors in the choice of Ju Paes (migaa) is good. longbob her on the shoulder height already gives a boooua lightness in the face, and leave more sophisticated and rich guy (see item 2)
6 – Kristen Stewart
I confess I thought Kristen to face SONG monga with this long hair, not to mention that he always seemed to be dirty (but nothing against it yeah, fans?). Now, with this short one with the right sidecut and this orange she was very beautiful! Now it's with rocker guy who always wanted with the big hair, but it was just like an angry emo dirty hair. Now it's 100% more beautiful.
7 – Maria Eduarda
Maria Eduarda already had a diiiivo hair beautiful in the novel, all curled and now, to get rid of evil Vanessa went the scissors and showed that chanel hair is not only for those who do brush or have straight hair! And it is wonderful with this hair! Cached, unite, pass the scissors in your hair too !!
8 – Marina Ruy Barbosa
Who remembers the controversy that Marina Ruy Barbosa did not want to shave his head to the novel and the director gave a ghost bride for her as punishment? kkkkkkkkk. It is water under the bridge, cause the redhead went the scissors to be Mary Isis "Imperio" and was also beautiful (this girl is not ugly ne migas). She chose a longbob too, which is the intermediary between the big hair and the little hair (putz) and brings lightness and visual sophistication pro. Another to inspire attached in cabelón.
9 – Rita Ora
Rita Ora also went the scissors in the mane and was beautiful chanel all peaked and misaligned. This cut is great for those who enjoy only give a smashed hair and leave!
10 – Sophie Charlotte
Sophie left the last because it is the one I liked most. I confess I was already in love with chanel Amora Campana, who left her more beautiful and sophisticated. Now the boyish gave a modern touch that I never saw in Sophie, left her much more modern but still with a romantic aura. For those who want to venture into radical cuts it, this is my suggestion!
I hope you liked the selection and take courage to cut hair, go for me it's liberating!
Gallery
Short Hair Style Guide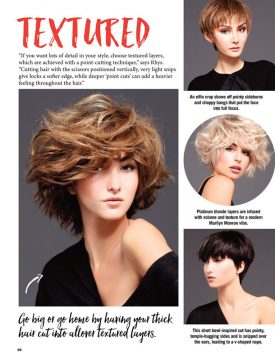 Source: jetrhys.com
15 Modern Pixie Haircuts
Source: www.pixie-cut.com
20 Short Bob Hairstyles Black Women
Source: www.bob-hairstyle.com
10 Best Korean Bob Hairstyle
Source: www.bob-hairstyle.com
10 Back View Of Bob Hairstyles To Inspire You
Source: www.pinterest.com
20 Mens Messy Hairstyles
Source: www.mens-hairstyle.com
30 awesome Undercut hairstyle photos – StrayHair
Source: strayhair.com
15 Pixie Cut Asian
Source: www.pixie-cut.com
Natural Hairstyles With Bandanas
Source: hairstyles.flatheadlake3on3.com
Hairstyles Women Over 40 Thin Hair Diamond Shape Face …
Source: shorthairstyle2013.net
20 Long Pixie Haircut for Thick Hair
Source: www.lovely-hairstyles.com
Alexa Chung
Source: www.stylebistro.com
10 Best Korean Bob Hairstyle
Source: www.bob-hairstyle.com
Shaved Hairstyle Ideas Inspired by Rihanna
Source: livesstar.com
dont you love these 80s hairstyles 10 simple sexy long …
Source: hairstylegalleries.com
How To Hair Faux Bob Hair Tutorial Updo For
Source: hairstylegalleries.com
15 Modern Pixie Haircuts
Source: www.pixie-cut.com
30 awesome Undercut hairstyle photos – StrayHair
Source: strayhair.com
Best 25+ Wavy lob ideas on Pinterest
Source: www.pinterest.com
Thank you, Fabulous Hannah: 10 EASY styles for gorgeous …
Source: www.greathairinspiration.com