I received a package of p2 with products from the new "Far East". So Close."LE, which can be bought in May and June in all dm markets. I was very pleased, because the design of the LE and the sometimes extraordinary products made me curious in advance. The delicate shimmering colors fit great to the spring, for me a very harmonious LE. Today I would like to reveal my first impression about the products, and I will certainly present some of them after a thorough testing.
This Says P2:
"Asia is one of the most popular sources of inspiration this year. Let yourself be enchanted by geishas, ​​cherry blossoms and kimonos and make a trip to distant continents with p2. The new Limited Edition "Far East. So close."From p2 cosmetics brings you the colors and trends of Asia home. Discover the great new products and make your Asian look perfect!"
Source of supply: In May and June in all dm markets (limited)
Timeless Grace Nail Polish
This Says P2:
"The long-lasting nail polishes in three trendy Asian colors have a beautiful pearl effect and an intense covering power according to animalerts. All three colors are vegan: 010 golden amber, 020 pinkish purple and 030 bluish green".
Content / Price: 9ml for 2,25 €
I like the nail polish very well. They have a beautiful shimmer, can be applied almost without streaks and cover well. The brush is long and thin, the consistency of the varnishes relatively liquid. The turquoise "bluish green" has a fine silver shimmer while the"golden amber" contains fine gold shimmer.
Gem-Like Eye Shadow
This Says P2:
"The baked eyeshadows in four brilliant nuances convince by high color output and provide a luxurious shimmering finish. The smooth, light texture is easy to apply and makes your eyes sparkle. Available in the colors 010 diamond (vegan), 020 rose quartz (not vegan), 030 opal (vegan) and 040 sapphirine (vegan)."
Price: 3,15 €
I have received the silvery-gray 040 "sapphirine" and the tender-pink 020 "rose quartz". The Swatches I have made on a base, since they are without base somewhat weak in the color. The eyeshadows shimmer very strongly silvery and are very softly pressed and powdery, my "rose quartz" has not gotten the way to me and is broken.
Bloomy Liquid Blush
This Says P2:
"Decent shimmering liquid blush for a very fresh and natural complexion. The pleasantly light gel texture can be perfectly applied and veneered. The two colors 010 cherry blossom and 020 lotus flower are vegan."
Content / Price: 10ml for 3,95 €
I got the 010 "cherry blossom", a tender apricot. The dosage with pump dispenser is somewhat difficult, since you get a lot of product with a pump impulse. The blush smells very perfumed and shimmers strongly. It was easy to rub on the hand and the glimmer looked very fine.
Inspiring Slim Lipstick
This Says P2:
"Glossy lipstick with delicate iridescent color reflections, which makes the lips look much fuller and give them a shiny look. It is available in the colors 010 lily, 020 azalea and 030 chrysant (all not vegan)."
Price: 3,25 €
I received the color  "crysanth", a beautiful coral orange tone with gold shimmer. The lipstick is very creamy and can be applied very precisely by the narrow shape. A fragrance or taste I can not perceive and he feels very pleasant on the lips. It is not quite opaque, and the glimmer is clearly perceptible on the lips. The durability is rather mediocre due to the creamy consistency and he creeps something into my lips. In  Anna's colorful world  you can  see a trail.
Defining Eyebrow Loose Powder & Wax Pencil
This Says P2:
"The perfect duo for well-groomed eyebrows! With the colored powder, the eyebrow can be shaped nicely and easily, thanks to an integrated applicator. The wax pin fixes the fine eyebrow hairs.Available in two nuances: 010 best shaped and 020 well formed (both vegan)."
Price:  3.75 €
The eyebrow pin has two sides. A waxy to fix the eyebrow hairs and an applicator with the eyebrow powder should be applied. Here you have to be careful when unscrewing, that it does not dust. I have received the color 020 "well formed", a dark black-brown with which I can do with my blond Augenbrauen nothing. The eyebrow pencil is therefore given away.
Dressy Gel Eyeliner
This says p2:
"Water-resistant and long-lasting gel eyeliner for a dramatic beautiful eyeliner in the gently shimmering trend colors 010 modern fuchsia (non-vegan) and 020 classic gray (vegan). With integrated brush."
Price:  3,95 €
I got the 010 "mordern fuchsia", a great shimmering purple pink. The brush is integrated into the lid and can be easily removed. The gel eyeliner does not seem to be completely opaque with a layer. To be able to say more, I still have to test it in the eye.
Touch Of Asia Make Up Stick
This Says P2:
"Quick and easy to a natural and regular complexion: Apply make-up directly with the stick on the forehead, nose, chin and cheeks and then blind with the hands or a make-up sponge outwards. Also ideal for refreshing the make-up. The two colors 010 graceful beige and 020 sophisticated beige are vegan."
Content / Price: 15g for 4,95 €
I have received the 010 "graceful beige", a yellow tinge. The make-up has a very creamy consistency, for the Swatch I once painted the pencil gently over the skin.
Asian Feeling Chopstick Kajal
This says p2:
"After the use of the Khol-Kajal, the pen can be worn as a hairpin with long hair-for the perfect Asian look! Available in the colors 010 carbon, 020 jade and 030 ivory (all not vegan)."
Price: 1,95 €
The 020 "jade" is a shimmering turquoise, at 030 "ivory" it is a pure white. Both are soft and good in color.
Virtuosic Eyeliner Tattoo Sticker
This Says P2:
"Refined eyeliner tattoo stickers for the perfect Asian look! No smearing or fading, the velvety eyeliner sticker are easy to apply and comfortable to wear. They are suitable for all eye shapes and can be used several times. Available in two forms: 010 well fitting and 020 haute couture."
Contents / Price: 4 pieces for 2,45 €
Such eyeliner stickers I have never tried and am honestly somewhat skeptical. Well, I think that a small tube is glue and the stickers can be used several times.
Conclusion
"Far East. So Close "of p2 is for me a coherent Limited Edition with a nice color concept. I particularly like the lipstick and nail polish at first glance. The other lipstick colors I will look at the site even more closely. The "bloomy liquid blush" is very shimmering, I'm curious how it will make itself in the face. Overall, a nice LE for the spring which also contains some exceptional products.
Gallery
Ripleys Strange World: P2 Far East. So Close. Limited …
Source: ripleysstrangeworld.blogspot.com
[Eindrücke und Swatches] p2 Limited Edition "Far East. So …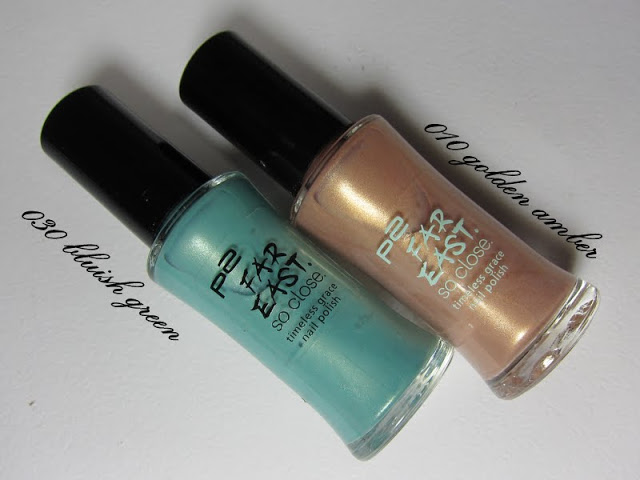 Source: www.ineedsunshine.de
Ripleys Strange World: P2 Far East. So Close. Limited …
Source: ripleysstrangeworld.blogspot.com
[Eindrücke und Swatches] p2 Limited Edition "Far East. So …
Source: www.ineedsunshine.de
[Eindrücke und Swatches] p2 Limited Edition "Far East. So …
Source: www.ineedsunshine.de
Ripleys Strange World: P2 Far East. So Close. Limited …
Source: ripleysstrangeworld.blogspot.com
Ripleys Strange World: Ankündigung: P2 Far East. So Close …
Source: ripleysstrangeworld.blogspot.com
Ripleys Strange World: P2 Far East. So Close. Limited …
Source: ripleysstrangeworld.blogspot.com
Ripleys Strange World: P2 Far East. So Close. Limited …
Source: ripleysstrangeworld.blogspot.com
Ripleys Strange World: P2 Far East. So Close. Limited …
Source: ripleysstrangeworld.blogspot.com
P2 Far East So Close
Source: makeupmeisjes.wordpress.com
[Eindrücke und Swatches] p2 Limited Edition "Far East. So …
Source: www.ineedsunshine.de
Ripleys Strange World: P2 Far East. So Close. Limited …
Source: ripleysstrangeworld.blogspot.com
Mahonis Blog: p2 Far East So Close Limited Edition [Teil 1]
Source: mahoniii.blogspot.com
Ripleys Strange World: P2 Far East. So Close. Limited …
Source: ripleysstrangeworld.blogspot.com
BeautyPraline*: p2 far east so close Limited Edition
Source: pralinenschachtel11.blogspot.com
Ripleys Strange World: P2 Far East. So Close. Limited …
Source: ripleysstrangeworld.blogspot.com
Ripleys Strange World: P2 Far East. So Close. Limited …
Source: ripleysstrangeworld.blogspot.com
Ripleys Strange World: P2 Far East. So Close. Limited …
Source: ripleysstrangeworld.blogspot.com
[Eindrücke und Swatches] p2 Limited Edition "Far East. So …
Source: www.ineedsunshine.de